We have already study the golden ratio and several properties of the golden rectangle.

From Euclid's definition of the division of a segment into its extreme and mean ratio we introduce a property of golden rectangles and we deduce the equation and the value of the golden ratio.

A golden rectangle is made of an square and another golden rectangle.
When we divide a golden rectangle in a square and another golden rectangle this new rectangle is similar to the initial one. We can repeat this procedure infinitely and we get a geometric sequence of rectangles.
There is a special point O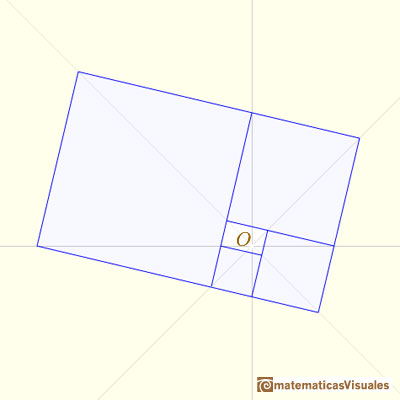 From one rectangle to get the next one we can consider the transformation that is the product of a dilatation of center O

and a rotation (a negative quater-turn about O)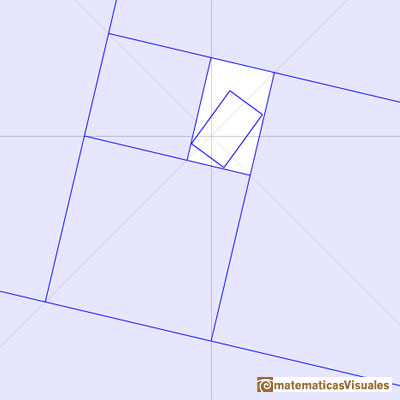 This transformation is a dilative rotation.

A Dilative Rotation is a combination of a rotation an a dilatation from the same point.
In the next video you can see a continuous dilative rotation:
Now we are going to calculate polar coordinates of several points.
The pole is O

Taking OE as the initial line and the length OE as the unit of measurement, so that E is

From E to C the dilative rotation about O has ratio of magnification

and it is a positive quarter-turn.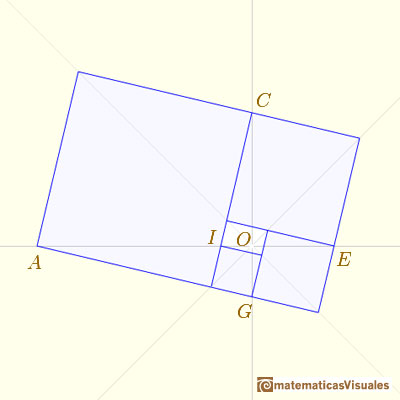 In general, we can calculate a sequence of points
REFERENCES
Coxeter H. S. M. - Introduction to Geometry (John Whiley and Sons, Second Edition, 1969)