Hilbert and Cohn-Vossen wrote about the cylinder: "The circular cylinder is the simplest curved surface. It can be obtained from the simplest curves -the straight line and the circle- by moving a straight line around the circunference of a circle while keeping it perpendicular to the plane of the circle. Another way to get the cylinder is by rotating a straight line about an axis parallel to it. Thus the circular cylinder is a surface of revolution. The surfaces of revolution are an important class of surfaces, characterized by the property that they can be generated by rotating a plane curve about an axis lying in the plane of the curve." (Hilber and Cohn-Vossen. Geometry and the Imagination. pag. 7).
In this page, the cylinder will be closed by two parallel planes perpendicular to the axis. These planes intersect the cylinder in two circles. We call these circles the bases of the cylinder.
The main interest of this page is to see how a cylinder can be developed into a plane.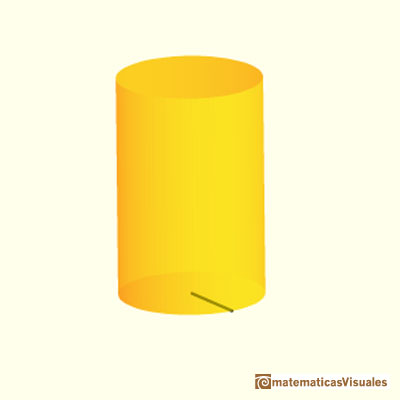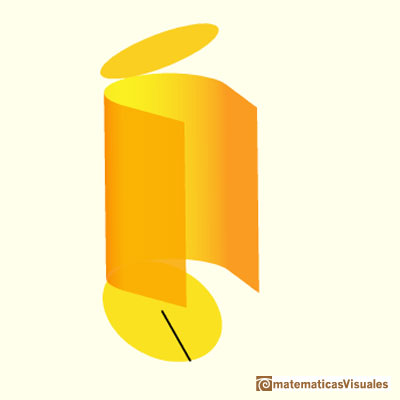 The lateral surface area of a cylinder is the area of a rectangle. The length of this rectangle is the circunference of one of the bases of the cylinder. We can calculate the lateral surface area of a cylinder: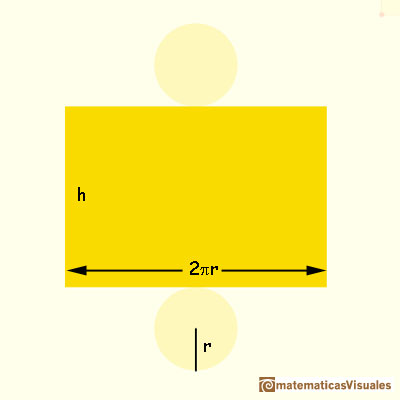 To calculate the Total Surface Area of a cylinder we must add the lateral surface area plus the top and bottom circles (the two circles that make up the ends of the cylinder). Then: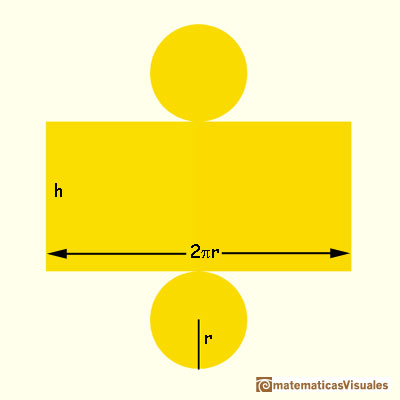 Do you remember how to calculate the volume of a cylinder?